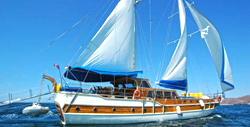 90 feet and has a capacity for 12 passengers (6 double cabins), is equipped with kayaks, snorkeling equipment and fishing. The crew is 4 people. It features an indoor dining area and an outside dining area..Built in Turkey by expert designers, our boat benefits from 6 spacious and comfortable in-suite cabins, all equipped with air conditioning to make sure your journey on the tranquil waters of the Sea of Cortes is completely pleasurable.
In addition, you can count on two dining areas where you can enjoy a delicious and romantic dinner.
Located on the inside of the boat or on the deck, both are serviced by our professional chef who will satisfy any demanding palette.
Our boat is staffed by an experienced captain, two sailors, and a chef.